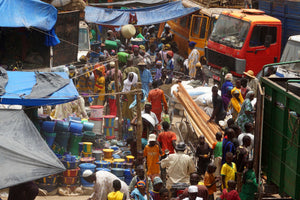 A visit to Djenné should include an exploration of the open market.  Occurring every Monday, the market is like a time warp back to the era of the trans-Saharan gold trade.
Navigating through the shaded makeshift stalls is a delight to the senses.  Bright splashes of colored textiles, ceramics, metal jewelry, beads, and cookware.  Aromas of fresh fruits, vegetables, meat, and spices.  Whatever you can think of, chances are there's probably someone selling it.
My local guide, Mamadou is accompanying me today.  A native of Djenné, Mamadou is a charming young man in his early 30s.  As a certified tour guide fluent in French, English, and local dialects, he has been a brilliant guide and translator.  Though I can get by for the most part by communicating in French, some of the men and women that I have encountered only speak the local dialect.
As Mamadou leads me around the market, across the way I notice there is a section where only men are walking around.  When I ask Mamadou, he tells me it is the livestock market.  There is unspoken rule of that part of the market being for men only as men are traditionally the herders and animal rearers.
Being the rule breaker that I am, I ask Mamadou if we can take a look around.  After speaking to a couple of the leaders of the market, I am given special permission to enter the area.
We walk by sheep, goats, chickens, and donkeys ranging in size and maturity. All are tethered to different wooden vendor posts.  The animals are so overcrowded in some sections that you have to keep your eyes down to avoid bumping into them.  The mix of livestock creates a distinct musky odor.  It's not quite overpowering yet still a sharp contrast to the pleasant aromas of the rest of the market.
Men are inspecting livestock from different vendors, asking questions and haggling prices.  You can see the enjoyment both the vendors and customers get from haggling and interacting with one another.  Some have children standing beside them looking decidedly unentertained but are waiting patiently for the shopping to be completed.  The air is filled with lively boisterous voices mingling with the bleats, clucks, and braying of the animals.
Why does this experience stand out in my memory, you ask?  Of the hundreds of men in the livestock market, I was the only woman walking around.  I just love breaking the norms.
And though in this situation it may be easy to imagine the men trying to flirt or what have you, the men treated me as they would the women in their community.  Respect and reverence.
Djenné is called the "pious town" and its people are known for their wisdom, spirituality and welcoming nature.  This is most definitely something I was able to experience first hand, not just that day at the market but during my entire time in Djenné.