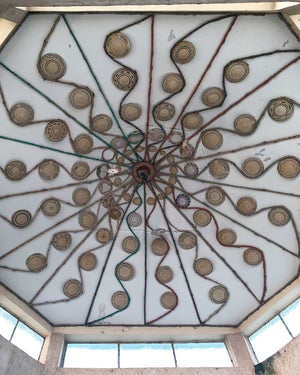 During my visits to various homes and historical buildings in Dalaba, I found myself repeating one similar action: I kept looking UP.
I absolutely fell in love with the traditional decorative ceilings in Dalaba. Unique to Fulani architecture and design and quite unlike the often monochrome flat ceilings of our homes in the States, the ceilings in Dalaba are just breathtakingly beautiful.
I love that they use decorative woven baskets that are created by local women artisans in the village of Pouké.
The baskets are meticulously laid out in rows. Bamboo branches wrapped in raffia are used to create beautiful shapes around the woven baskets.
Each space I visited had its own unique design, but each one was delightful. They were the architectural highlights of my time in Dalaba that just left me swooning. It was also a reminder that sometimes you just need to look up to find beauty.