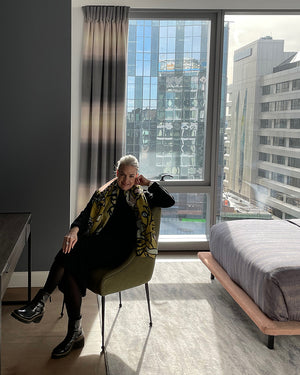 I am an interior designer and principal of my firm Daher Interior Design for the past 25 years. We specialize in projects from the ground up, renovations of entire homes, sprawling suburban homes and high-rise units. We provide interior architecture services and furnishings with a complete turn-key process.
Always need the perfect accessory to make my outfit chic!
[Zainab's] scarves are the go-to accessory and create scarf envy everywhere I go!
Paula's beautiful styling includes the following:
Photos 1 & 3: Gnawa Lila Cowrie Jaune
Photo 2: Gnawa Mâalem Bleu