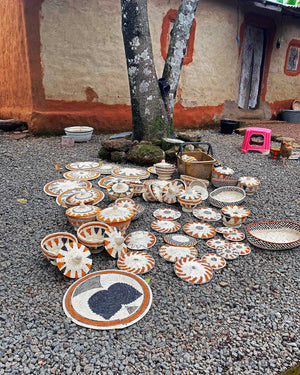 It's been pouring for several consecutive days, keeping everyone indoors. Now that the rain has finally stopped for a day, I'm eager to get out and explore. My companions and I decide to head over to Pouké, a very small enclave in Fouta Djallon. It's on the outskirts of Dalaba, a quick five-minute scooter ride away. The landscape is a permaculture design, locally known as tapade. Beautiful plants, trees, and flowers are all around.
Arriving at the village, I hop off the scooter and enter by foot. It's the only way into the village. We skirt around a large hole at the entrance that has been dredged in the earth by the non-stop rain. I hear a flurry of excited activity and murmuring as word gets around that there is a visitor interesting in looking at some wares.
Each home houses a basketmaker or two. They each come out with samples of their wares, creating neat piles for me to inspect.
The baskets are all stunning. These women are not only creative, but also very business savvy. Their negotiation skills are on point. One young girl around 7 or 8 years old is in the process of learning the craft. She is quite insistent on selling her pieces to me and keeps interrupting my conversation with the adults.
Finally, I pause and ask her how much she is selling them for. 80 CFA. The price she quotes is as much as the baskets made by the elders! Everyone within hearing distance bursts out laughing because her work is clearly not up to par. But I find that cultivating a love of craft in children is important and to support a budding artist, I purchase one of her baskets for 20 CFA. 
Locally know as léfas, the baskets made in the region are used for storage, decorative vessels, or as ceiling decorations (more on this next time!).
The whole village is a cooperative, which I find amazing. As the leader of the cooperative explained, all the materials they use to create the baskets are locally harvested by the women of the village. They take pride in their craft and in teaching the skills to their daughters.

[As an aside, I do wonder what role the men in the village have and whether they play any part in the art of basketmaking. Interestingly, I only saw young boys about, so perhaps the men were working out in the fields and they do in other villages.]
I couldn't help but leave with a large stash of baskets for myself. They made a lovely display in the studio are now currently looking beautiful around my home!