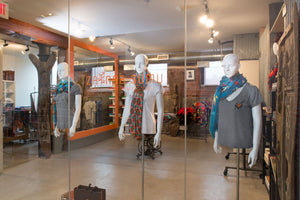 We recently moved into our Atelier and showroom in Boston's arts district, SOWA!
The design is totally Primitive Modern-- vernacular, simple, authentic.
Our showroom is filled with things we love. Photographs by Malick Sidibe, sculptures from Dogon country, books on architecture, Fashion and design from around the world.
We love the corrugated Dogon door depicting a peaceful family ambiance.
Like our showroom, our packaging depicts elegance, simplicity, warmth and joy!
If you are in the neighborhood, do pop in, say hello and listen to music by Habib Koite, Ali Farka Toure, Amadou & Miriam, Vieux Toure, Fela and more!
Hope you had a wonderful holiday and thank you so much for reading!
Images courtesy of Ralph Mercer Photography