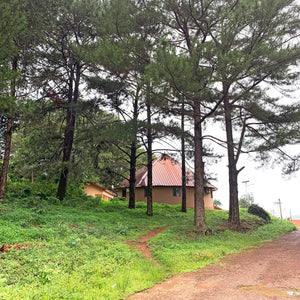 In a gated compound perched atop a hilly landscape stands a national historic landmark of Dalaba, Guinea.
The Case à Palabre.
Built in 1932 by Omar Yugo Bah, the then traditional chief of Dalaba, the Case à Palabre is a Fulani style circular building. The architecture is modeled after the suudu, the earthen huts featured in our Wansan Collection.
The walls and floor are beautifully decorated with motifs and earth bas-reliefs. The motifs symbolize the origin and importance of each traditional chief. 
The purpose of the building was simply a practical meeting place for members of the local government to gather together and agree on decisions for the region.
During the colonial period, traditional chiefs met with the governor to make important decisions that affected the administration of their local communities, or cantons as they were called.
Ahmed Sékou Touré, the first president of Guinea (1958-1984), turned the Case into one of his private residences.
During this period, he hosted various political figures that included Egyptian president Gamal Abdel Nasser, first president of Mali Modibo Keita, Ivory Coast president Houphouët Boigny, Senegalese poet and politician Lèopold Senghor, and singer and Civil Rights activist Miriam Makeba.
Renovations sponsored by UNESCO were completed in 1959, but the building sadly fell into a state of ruins after Sékou Touré's death in 1984. It was renovated by current president Alpha Condé after he took the office in 2010.
The Case à Palabre is currently maintained by two friendly caretakers.
Mamadou is in his 70s and is of a short and slim stature. He has been a caretaker of the Case since 1967, a position he inherited from his father.
Shérif, tall and well built, is his 60s and has been a caretaker since 1981.
During my visit, Shérif shared that he has been a caretaker without pay since 1988. They sell artisanal artifacts and charge a small fee to visitors. Their reasoning for maintaining the upkeep of the Case despite the lack of salary is that they do not want such an important part of history to be lost.