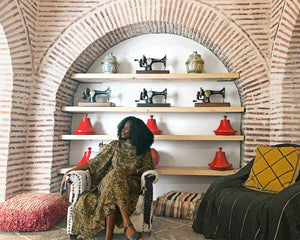 My name is Bintou Kunjo and I am a recent MBA graduate with a background in Chemistry. I was born and raised in The Gambia and I am interested in the intersection of chemistry and sustainable entrepreneurship for female-centric products and services.
My African identity and experiences continue to influence my passion for exploring ideas that especially impact Africa and its people in the diaspora.
The vibrant designs full of life immediately draw you to Zainab's work. Learning about the story behind each piece further connects you to the work of art.
I continue to support ZSPM because it is wearable art - I am transformed both aesthetically and emotionally everytime I put on a ZSPM piece.
All of Zainab's creations are a statement piece. I add a Zainab scarf to a simple outfit and it elevates it several levels!
Bintou's beautiful styling includes the following:
Photo 1: Gnawa Foungoro Dress in Lila Jaune
Photo 2: Djenné Mystere Bleu
Photos 3 & 4: Djenné Foudre Red Large Art