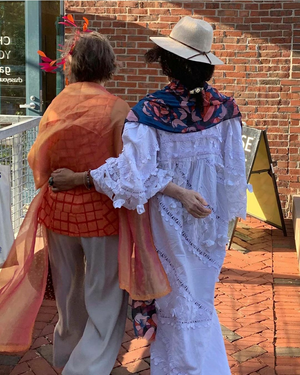 Happy Spring! 🌸
I want to celebrate YOU in a new feature highlighting our fabulous community, beginning today.
I'm passionate about people, life, and all things beautiful-- and my community encompasses all of these.
My customers come from a range of backgrounds, but all share my love of beauty. I admire them for their compassion and caring, always looking outside themselves to give back and create a better world.
Over the years, I've cultivated strong and soulful relationships with so many of you. This has continued even during the pandemic.
Without further ado, meet Kathleen!
I came to womanhood as a feminist in the early 1970s. Marxist approaches to history in college and critical legal theory in law school made me responsive to structural inequities in US and global societies. I brought this "critical thinking" to teaching (western) fashion history when I came to MassArt in 1998.
This perspective has given breadth to our classroom content and depth to our inquiries, leading us to "Global Heritage of 20th Century Art and Fashion:" a de-centered fashion history course and perspective more urgent now than ever.
Learn more at @the_new_pantheon and hautehistory.com
Zainab's progressive designs express my history and values. Her warm and maximalist esthetic is rich with prints and fabrications that showcase multiple overlapping African cultures.
Based on this inspiration, Zainab has created an entire style world that is beautiful and comforting.
My favorite way to style a ZS scarf is to knot it at the ends and wrap it twice around my neck, creating a softly-framing infinity loop.
I like to layer my Zainab Sumu pieces together---print on print, scarf on blouse or sweatshirt, wool and linen and silk—creating a kaleidoscope of color and texture.
--
I would love to hear YOUR story as well! If you would like to share it with the rest of the ZS tribe, please reach out!