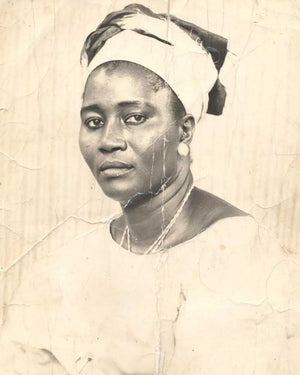 I always talk about my Papa because I am a daddy's girl, but I love my Mama dearly.
Haja Yalie Sumu.
She was tall, chocolate-skinned and regal, but more importantly she was a philanthropist, influencer, and feminist-- when no one used those terms yet. She loved her family fiercely and would do all she could to help others.
My love for all things artisanal (especially textiles!) comes from her. Mama had trunk loads of handmade textiles that she collected from all around Africa. Needless to say, she had STYLE. She loved entertaining and was quite independent.
One of my earliest and most wonderful memories of my Mama was when I was about 7 or 8. I was lying on the carpet reading. She and Papa were relaxed on the sofa. Papa must have been staring lovingly at me because I heard Mama say, "You should thank me for giving you such a beautiful girl." I nodded my head in agreement, got up, and gave her a big kiss and a hug.
My handsome Papa, beautiful Mama, and Papa's best man.
I used to love attending Friday prayers at the mosque with her as a pre-teen. Usually being the only youngster at the mosque, I loved how she would beam with pride when her friends would comment about how wonderful it was that I would accompany her to the mosque.
What she did not know was that I had an ulterior motive. I figured out a way of getting new outfits; Mama got something new made for every Friday prayer and going to the mosque with her meant that I got one too. I have always been a smart one. 😉
Mama was a wonderful cook and knew how to use that to get me and my siblings to behave properly. When I would call home to say I was going over to a friend's, she would casually have a conversation with someone in the background about the fried plantains and fish being prepared. Of course, upon "eavesdropping," I would then head home.
For many years I did not see Mama after the sudden passing of Papa while I was away at school. It was difficult for me to be home and not see him there.
After I moved to the US, I would call and try to convince her to move here as well. She never wanted to. In 2010, I moved back to Sierra Leone for a year and am so glad to have done so. I was able to enjoy Mama's cooking and her wicked sense of humor.
She knew, though, that I wanted to do more. She advised me to go back to the US and pursue my dreams. She passed away suddenly after my return to the States in 2012. I miss her dearly but appreciate the moments where I can reflect on the amazing woman she was and what she meant to me.
Here she is, Mama. Giver of my intelligence, wit, and business savvy.
And 💯 where I get my cheekbones and le booty. Can you see the resemblance?
Happy Mothers Day, Haja Yalie Sumu, and to all the wonderful and trailblazing women out there!