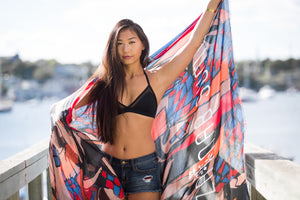 Our scarves come in luxuriously large sizes. 
Fab ways to wear our scarves in the summer, and here are a few fun ideas on how to rock them for some fun in the sun!
Easy to drape over shoulders like a Pashmina!
Or worn as a head wrap when having a bad hair day or for a chic vacay look!
Wrapped around you as a sarong!!
At home, on a boat, at the beach or just out and about this summer, be sure to jazz things up with one of our scarves. Why not get yours from our store?

Big thanks to Katii Tornick and the beautiful @meisalas for the stunning images!

Thank you all for reading!
xo, Zainab