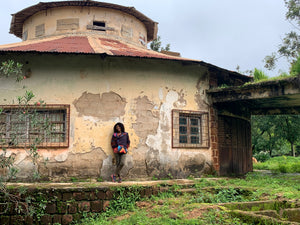 Growing up in Sierra Leone, the tunes that floated through our home included the beautiful voice of Miriam Makeba. She was of the same generation as my papa and revered during a time when many countries in Africa were fighting for independence. Her lyrics about this struggle did not compute with me when I was a young girl, but I was finally able to make the connection between her music and her fight for equal human rights during my 2019 stay in Guinea.
When planning my trip to Guinea, I knew one excursion I definitely wanted, needed, to make was to the former home of Miriam Makeba. I was fortunate to stay at a guesthouse that was just a short 5-minute walk to her home in Dalaba.
Activist.  Artist.  Mother. 
She-ro.
Nicknamed "Mama Africa," Miriam was a South African born civil rights activist and singer. She was one of the first African musicians to garner global recognition. Best known for her upbeat song "Pata Pata," she was instrumental in introducing and popularizing African music to a Western audience.

Her history is both a tale of heartache and resilience. She lost her dad at the young age of 5. When her mother and two other family members were killed during the 1960 Sharpeville Massacre, Miriam's attempt to attend the funeral was met with a refusal of entry into South Africa and her passport revoked.
Realizing her popularity could help bring attention to the apartheid movement, she focused on creating songs that criticized South Africa's government. Her involvement with the Black Consciousness and the American Civil Rights Movement also increased.
Miriam's musical achievements included a 1966 Grammy win with Harry Belafonte, a performance for President Kennedy, and a performance at a fundraising event for Rev. Martin Luther King, Jr.
During a visit to Guinea in 1967 and while she was married to fellow South African musician Hugh Masekela, she met prominent Black Panther member Stokely Carmichael. Miriam and Carmichael married the following year after her divorce from Masekela. Her marriage to Carmichael resulted in her waning popularity with the American white audience and in her movements being monitored by both the CIA and FBI. On returning from a visit to the Bahamas, she was refused entry into the US.
A view of Dalaba from the guesthouse where I stayed.
This is the point when Miriam found her way to Dalaba. She was offered a residency in Guinea by then President Sékou Touré. According to Miriam, Dalaba was the most breathtaking and beautiful place she had ever seen. She and Stokely entertained dignitaries and other civil rights activists regularly at their home in Dalaba. After their divorce in 1978, Miriam continued to live in Guinea and toured around Europe and Africa for the next 15 years.
The overgrown entrance to Makeba's home
Though the house has sadly been left to ruins and pillaging since Miriam Makeba left Dalaba in 1984, the home has retained its majesty and mystery. The compound is about two verdant acres with beautiful panoramic views of the valleys. Built in the Fulani style of the suudu, it is round with a pointed roof. Though I was unable to enter the premise, I could picture the interior with high ceilings adorned with round baskets as is popular in the region.
As I stood in the yard gazing at the dilapidated house, past the two cows grazing on the lush greenery and the occasional chicken idly strolling by with its beak scraping across the ground, I could imagine hearing the faint melodies playing in the background blending harmoniously with the voices of the revelries that once took place inside the house.
"Be careful, think about the effect of what you say.
Your words should be constructive, bring people together,
not pull them apart."
- Miriam Makeba
Miriam Makeba's story and message resonates just as strongly today. Equality. Justice. That every human being should be treated with dignity and respect. Her message shone through in both her music and life.
I hope her resiliency and authenticity strike you as deeply as they have me.
To learn more about Miriam Makeba's life, there is a brilliant documentary on Amazon that I highly recommend.