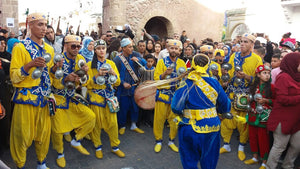 This year's new collection is inspired by Gnawa Music from Morocco.
Gnawa music is poetry in motion.
It is transcendental, nostalgic, hypnotic and melodic.
I first heard the music 10 years ago at Jemaa el-Fnaa while on vacation, in Morocco. I was transfixed. I am not sure why, but it stayed with me and I knew I wanted to create something inspired by it.
Gnawa music is uses three traditional instruments:
Sintir or guembri: 3 stringed percussive lute, played by a Maâlem
Qraqeb: large metal castanets
Ganga: drums
Gnawa musicians at opening ceremony
Gnaoua Music Festival 2017, Essaouira

Maâlem Houssam Guinia, the son and successor of the late Maâlem Mahmoud Guinia performing at the Gnaoua Music Festival 2017, Essaouira

Yes, I did meet him at the Gnaoua Music Festival 2017!

For the scarf collection, I incorporated aspects of the culture, musicians, their colorful gowns and caps covered with cowrie shells, the distinct sound of their instruments and the explosion of the rhythm.
MY PROCESS: 
I listened to the music all day in my studio and started drawing. The music put me in a trance and inspired the series of drawings that make up this scarf collection and watercolors.
COLORS:
White, dark blue, pale blue, red, yellow, green, and black are distinctive to the culture. I wanted the colors of the collection to be soothing and comforting yet sophisticated so I incorporated beige, soft rose, and browns. 
THE COLLECTION:
LILA: 3 color ways in 100% Wool
Inspired by dance movements, musical rhythm, and the embroidered flowers and cowrie shells that adorn the belts and hats the musicians wear.
MELK: 3 color ways in 100% Wool
The artwork for this print is an abstract play on Gnawa culture. I referenced the evening-long music session, including the rhythm, instruments, and symbols.
JADBA: 3 colors ways in 100% Wool
An ode to the swooping dance moves, the way the music transports you, and the final crescendos

MÂALEM: 2 colors in 100% Linen
Ode to the mâalem, master musician
FLEUR: 2 colors in 100% Linen
Inspired by the embroidered flowers adorning the musicians' clothing

My hope is that these scarves bring you the same sense of comfort, elegance and beauty as they do for me.
xx,
Zainab