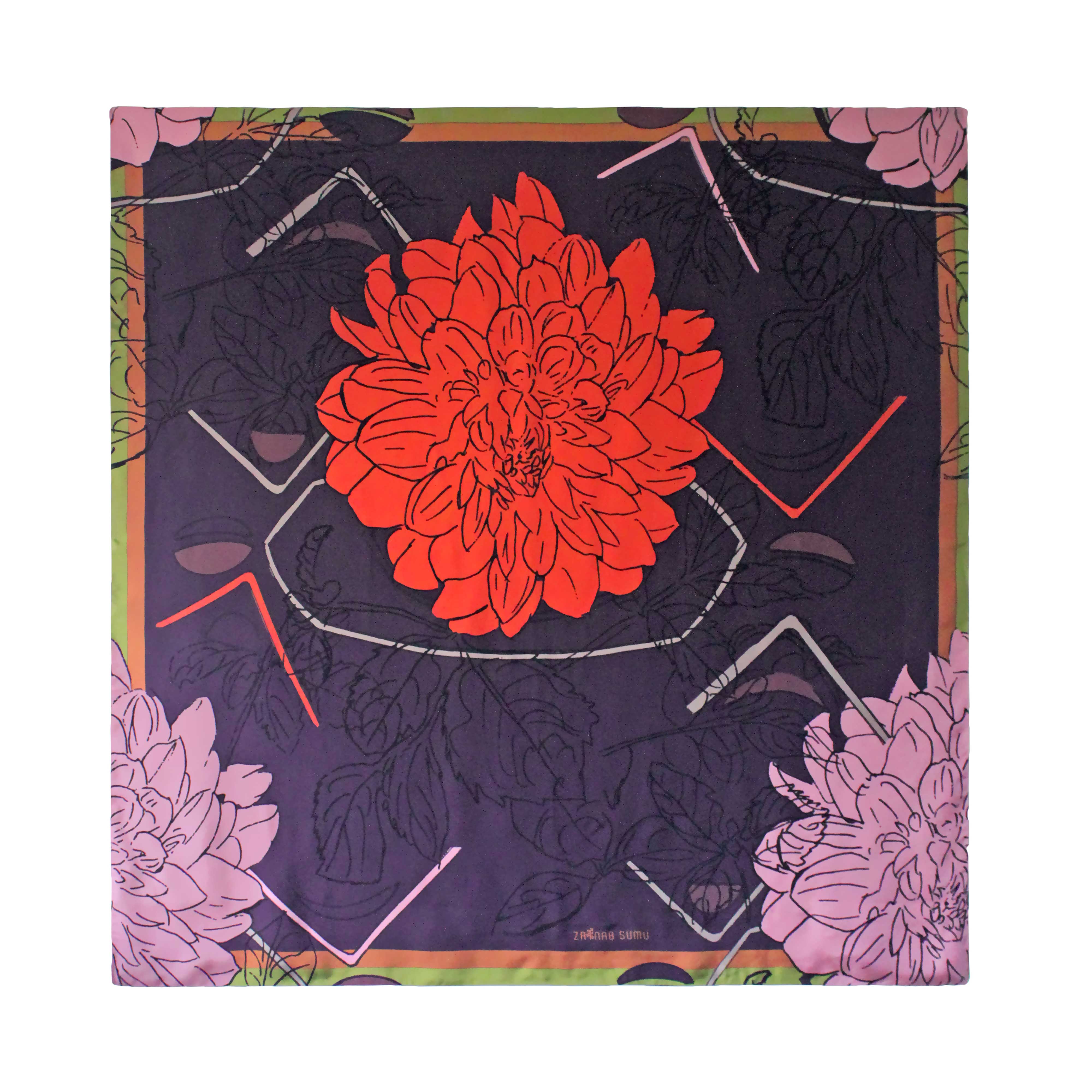 THE DETAILS

Dalaba Dahlia Marron

A harmony of floral and geometric design to take with you on your world adventures or a large statement art piece gracing your wall. The silk twill Dahlia print presents the stunning geometric symbols found in the Case à Palabre and the flora of Dalaba, Guinea.

A single vibrant orange dahlia is the focal point of the Dahlia Marron print. Against a backdrop of serene plum, the dahlia is in the company of other rosy-hued blooms while the geometric designs of the Case à Palabre imitate the same bright hues.

55" x 55"

100% silk twill

Hand-rolled edges

Limited run of 16

Made in Italy

Dry clean

THE STORY

The caretaker brandishes what looks like a long, narrow pick. It's a wooden key to the circular Case à Palabre's door. The lock, like its key, is reminiscent of a relic. A piece of art. It's a roughly carved wooden piece with random criss-crossing patterns.

Inserting the key, the lock is released. As the doors slowly creak open, the darkness inside is interrupted by a few beams of sunlight.I take one step inside. Then another. My body casts a long shadow on the ground. The light entering through the door reveals a single room. The damp scent of clay and straw permeates through the room. The small windows along the walls carry in a slight breeze of fresh air.I'm transfixed. In my mind's eye, I picture the room occupied by all the local chiefs meeting with the colonial governor. Important decisions were made here. Surrounding me from floor to ceiling are varying motifs and earthen bas-reliefs, symbols of each chieftaincy. In the serene silence, my fingers are itching to sketch and record the geometric symbols on paper. I feel a rush of inspiration from witnessing this historical treasure trove.